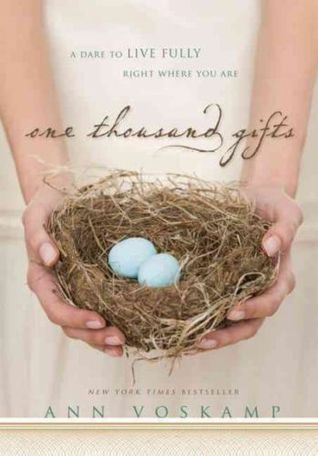 During recovery from a recent procedure, I wanted something a little lighter to read than my more typical theological or educational choices. I chose One Thousand Gifts by Ann Voskamp, with an expectation that I'd probably not like it. Surprise, I liked it. A lot. Likely you are at least vaguely familiar with this best-selling book. It had more depth than I expected. It is devotional and encouraging, but Voskamp is clearly well-read and has a good grasp of theology so that she was able to write this devotional book through a theological lens, seeing God at work in everyday life and circumstances.
Voskamp is a mother of 6 children living on a farm in rural Ontario, Canada. Clearly Voskamp's identity is in Christ, first and foremost, which enables her writing to appeal to a variety of people even if they don't happen to be wives, mothers, or rural farmers. Such as me! I have very little in common with Voskamp, except the Christian faith, and that is (and should be) enough for us to relate to each other. Unfortunately, I find too many female Christian authors are unable to communicate in this way. Instead of expressing God's truths as a female (as I feel Voskamp has done so well), they can only discuss distinctly female issues through the narrow lens of being a wife or mom – which alienates those who are not wives or mothers or simply in a different stage of life. But to move on…
The book seemed to be born of a journal where Voskamp recorded 1,000 things she was thankful for in life. I was touched and challenged by so many of her thoughts, and plan to begin my own gratitude journal. Voskamp walks us through different events of her life, weaving in biblical thoughts on gratitude, contentment, and seeing God at work in everyday life. Christ is a focus throughout the book as we are reminded of the cross and our gratitude flowing from Christ's work for us. Besides biblical references, the book is enriched by quotes from theological heavyweights like Tim Keller, John Calvin, GK Chesterton, JI Packer, CS Lewis, John Piper, Augustine, etc.
I realize there was some controversy surrounding this book, and you can find negative reviews. But again, I liked it! Sometimes I think certain people go after every book with a theological magnifying glass determined to find something wrong with it. I will admit that Voskamp's writing style (rather poetical at times) is usually not my thing but I appreciated it none-the-less.
[The following note added later after the review was initially published: I also think it is important to remember that creative or poetical writing is understood differently than formal or academic writing. However, I found her interaction with theological heavyweights, as referenced above, gave the book balance in regards to the poetical approach.]
I borrowed this book from my church library so unfortunately I could not highlight or underline things. Before returning it, I jotted down some excerpts that I wanted to remember (from both Voskamp and others she quotes), and noted that many came from one chapter, "Go Lower." I will share a few of them here:
"Theories and theology stillbirth unless they can take on some skin, breathe in the polluted air of this world, and make it happen." [In other words, theology should affect how you live your life!]
An excerpt from a Mark Buchanan's book The Rest of God: "Being in a hurry. Getting to the next thing without fully entering the thing in front of me. I cannot think of a single advantage I've ever gained from being in a hurry. But a thousand broken and missed things, tens of thousands, lie in the wake of all the rushing…Through all that haste I thought I was making up time. It turns out I was throwing it away."
"God created the world out of nothing, and as long as we are nothing, He can make something out of us." Martin Luther
"If the heights of our joy are measured by the depths of our gratitude, and gratitude is but a way of seeing, a spiritual perspective of smallness might offer a vital way of seeing especially conducive to gratitude."
"Expectations kill….Instead of filling with expectations, the joy-filled expect nothing – and are filled."
"While I may not always feel joy, God asks me to give thanks in all things, because He knows that the feeling of joy begins in the action of thanksgiving."
"Dare I ask what i think I deserve? A life of material comfort? A life free of all trials, all hardships, all suffering? A life with no discomfort, no inconvenience? Are there times that a sense of entitlement – expectations – is what inflates self, detonates anger, offends God, extinguishes joy?"
** For anyone interested, another brief excerpt from the book here: Lament vs. Complaining.
⇒ If you find the general content of my blog, or a particular post helpful, please consider sharing it. The buttons below make it easy to share a post. Thanks!
⇒ Consider subscribing if you'd like to receive an e-mail notification when there is a new post on Enough Light.  See the right column.